I wish you a belated Merry Christmas and a preemptive happy new year. I figure we're somewhere close to the midpoint between the two holidays, so I'm covering both at once.
Christmas for me was great this year.
We didn't have any family in town, so Jaime and I were pretty much on our own this year. On Christmas Eve, we met up with DocLotus and Fiesta831. They came to Savannah for Christmas, and we met for the first time over a nice lunch down on River Street. After several years of IM-ing, it was nice to finally shake hands and share a meal. Doc is a great guy, and Fiesta831 is just wonderful. They make a great couple, and we had a lot of fun.
OK, onto the list. Yes, I'm going to try to break down just about everything we received for Christmas, minus clothes for Jaime.
Christmas themed cookbook
Set of wicker baskets
Two Christmas ornaments
Christmas bell
2 Coffee samplers
Coffee cup warmer
2 bags of Dunkin Donuts coffee beans
Framed photo of Jaime and me
2 candles
Tin of fudge
Cookie jar
Guinness Book of World Records
Hooded zip-up sweatshirt
Black sweatshirt
Paper cutter
Sweat pants
$25 TGIFridays gift certificate
$30 Kohls gift certificate (ordered a candy thermometer, a plastic flipper, a 3-tier cooling rack, and a wooden spoon)
$50 Honey Baked ham gift certificate
$650 in various currency, either check or Visa giftcards
Phew. That's about it. I'm sure I missed something, but of course not on purpose.
Of the $650 in cash or giftcards, all but $3.50 has been spent. Seriously. Here's the breakdown of what we bought:
- A new monitor for Jaime. She's been using a 17″ CRT for quite some time now. It's big, it's blurry, and it runs hot. It also creates a very annoying buzz in Jaime's microphone when we are hosting America's Debate Radio. It needed replacement. Here's what we got:
It's a Samsung 940BX from Chief Value. 19″ screen, good contrast ratio, completely adjustable stand, and a 3 year warranty. For $250 delivered, I consider it to be a good value for what appears to be a good monitor from a good brand.
The keyboard and mouse (I'm using them now) are a Logitech S510. My old keyboard had a sticking shift key, and my mouse had some sort of tracking problem with the optical sensor, so they needed replacement. This keyboard is very nice, and so far I like it a lot. Easy to use, programmable, and wireless. The mouse is just fine for my needs. Two buttons and a wheel and I'm a happy camper.
The CD is Jimmy Buffett's Christmas album. We should have gotten it long ago, but never did. So it enters our collection as a padding to help us meet the Buy.com $20 off $50 coupon. $37.21 for both from Buy.com.
These are Heil SM-2B shockmounts. They will hold our microphones and dampen any vibrations that make it to the mic, such as when the desk is bumped. They make a huge difference in ease-of-use and quality. I ended up getting two of them for $161.90 delivered from MusiciansFriend.com.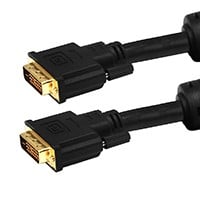 Yep, it's a DVI cable for the monitor. It's 25 feet long, and will connect to Jaime's computer in the other room. I got it from MonoPrice.com for $38.38 delivered.
What we have here is a WSPR-40 windscreen. It slips on our mics and will hopefully improve our tone. I ordered two yesterday from AESHam.com. They arrived today, less than 24 hours later! $40.97
Yep, that's cable. I ordered a bunch of it– 147 ft to be exact. Also 28 quarter-inch stereo instrument connectors and two rca conectors. I'm doing a full rewire on the AD Radio setup, converting it from unbalanced to balanced. $107.94 from Markertek.com.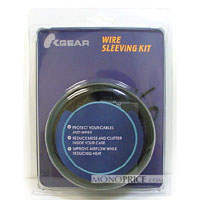 This is a cable sleeving kit. It will allow me to make our cables look nice and professional. $10.10 delivered from Monoprice.com.
And last, supplemented with a bit of my birthday money, I purchased some ferrite cores. These snap onto wires and help filter out electromagnetic interference and RF interference. I'm not sure if it will make a difference or not but for $18.90 for 50 of them on Ebay, it's worth a shot.
So there we have it. Just about everything I got for Christmas. As you can tell Jaime and I wanted to put the money to good use, and we couldn't come up with a better use than America's Debate and America's Debate Radio.
So onto New Years.
Well, you're going to have to come back to read my comments on new years. I'm sure I'll have a lot to say, so be sure to tune in… err… stop back!
Mike